The 
aquafeed market
is estimated to be valued at USD 50.6 billion in 2020 and is projected to reach USD 71.6 billion by 2025, recording a CAGR of 7.2% during the forecast period. The growth of the aquafeed market is driven by factors such as the growth in the aquaculture industry and growing seafood trade, which demands aquafeed.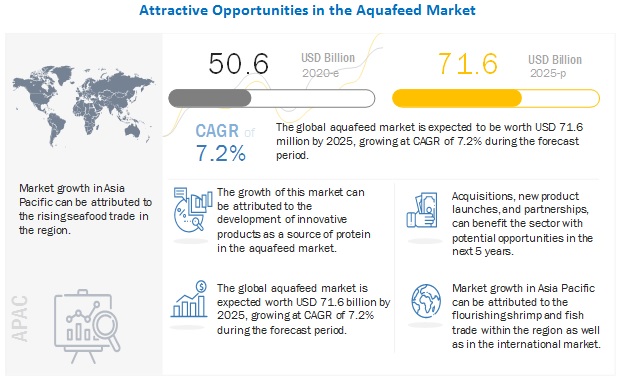 The key players in the aquafeed market include Cargill (US), Archer Daniels Midland Company (US), Alltech (US), Purina Animal Nutrition (US), Nutreco N.V. (Netherlands), and Ridley Corporation Ltd. (Australia).
Cargill is involved in the manufacturing and marketing of food, agricultural, financial, and industrial products, and services. The company's major business segments include food ingredients applications; grain origination and oilseed processing; animal nutrition; and risk management and financial services. Cargill's animal nutrition business offers a range of compound feed, premixes, feed additives, and supply chain risk management solutions to feed manufacturers, animal producers, and feed retailers around the world. The company is one of the largest aquafeed suppliers and focuses on three core species, namely, salmon, tilapia, and shrimp. To remain competitive in the aquafeed market, recently, the company entered into a partnership with InnovaFeed (France) to develop fish feed using insect protein.
Archer Daniels Midland Company (ADM) produces food beverage ingredients, feed ingredients, industrial ingredients, and biofuels. It offers aquafeed products through its subsidiary, ADM Animal Nutrition, Inc. (US). Strategies, such as expansions, joint ventures, and acquisitions, have aided the company to integrate its distribution channels to most feed producers. For instance, in April 2019, the company built a new high-tech feed facility in the US to increase the capabilities of its animal nutrition business and cater to the customers in the aquafeed industry.
Nutreco develops and produces animal nutrition and aquafeed products. It is a fully owned subsidiary of SHV Holdings (Netherlands). Two of the company's global brands are Skretting (aquafeed) and Trouw Nutrition (animal nutrition). Nutreco streamlined the functioning of its business units effectively to develop and deliver product-marketing strategies for different feed segments. The company has signed agreements and joint ventures with regional players and institutions to sustain in these regional markets.
Request for Sample Pages of the Report:
The Asia Pacific is projected to account for the largest share in the aquafeed market during the forecast period.
The Asia Pacific market accounted for the largest share in 2020; this market is majorly driven by China and Vietnam, which are major markets for aquafeed. China is among the leading producers of aquafeed in the Asia Pacific region. Due to the significant growth of seafood consumption and trade in this region, the aquafeed market is projected to grow in the region. The processed seafood market in the region is also currently undergoing significant transformation in response to rapid urbanization and diet diversification. Also, consumer demand for convenience and processed seafood offers profitable growth prospects and diversification to the region's food sector.