The report "
Brewing Ingredients Market
 by Source (Malt Extract, Adjuncts/Grains, Hops, Beer Yeast, and Beer Additives), Brewery Size (Macro Brewery and Craft Brewery), Form (Dry and Liquid), and Region - Global Forecast to 2026" The brewing ingredients market was valued at USD 34.5 billion in 2021 and is projected to grow at a CAGR of 6.8%, to reach USD 47.9 billion by 2026. The rise in the global population and increasing disposable income in developing economies are creating new avenues for alcoholic beverages.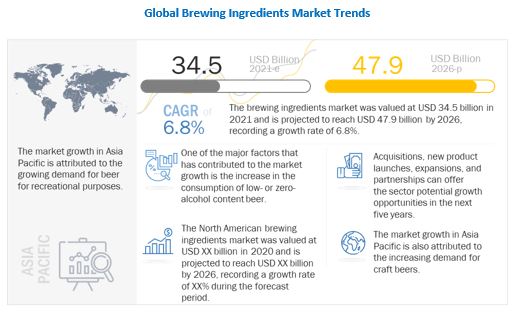 The brewing ingredients market includes five major sources: malt extract, adjuncts/grains, hops, beer yeast, and beer additives. Malt extract is further bifurcated into standard malt and specialty malt. Specialty malt is sub-segmented into crystal, roasted, dark, and others. Different types of beers are obtained by using different sources of brewing ingredients. For instance, roasted malt is used for producing the porter type of beer. The malt extract segment dominated the global market for brewing ingredients and accounted for a larger share in 2020. Beer additives accounted for the second-largest market share in terms of revenue in 2020.
Request for Customization of this Report:
COVID-19 Impact on the global brewing ingredients Market
The outbreak of COVID-19 has brought serious medical, social, and economic challenges. It is seen that the majority of the companies operating in the manufacturing sector (53%) expect COVID-19 to impact their operations. The grim expectations have become a reality in the sector due to the rise in oil prices and increasing demand supply bottlenecks which results in a slowdown of expenditures and rising uncertainty in credit markets. Players across the globe in the food beverage industry have faced a drastic decrease in the consumption of their products. Due to lockdowns in several parts of the world and restrictions on transportation of commodities, companies are also facing disrupted supply chains. The reduced agricultural production interrupting the raw material supply, lack of workers in manufacturing plants, and disturbances in the distribution system have disrupted supply chains.
Opportunity: Introduction of new flavors in beer
The increase in beverage consumption has led to intense competition amongst beer brands, resulting in the introduction of new flavors and increasing beer consumption. There is a growing popularity for craft beers as it offers various flavors besides the regular flavors offered by macro breweries. The introduction of new ingredients and innovative flavors, combining salty, fruity, and tart flavors, by craft beers, has found an increasing appeal among the millennial crowd globally. Some of the macro brewers are also acting on to respond to these changing demands from consumers. For example, Heineken USA, in 2021, launched Dos Equis Lime Salt variety pack of lager beer. Similarly, Latambarcem Brewery (India), in 2020, launched a new craft beer brand called Maka di that currently serves four brews: Honey Ale, Belgian Tripel, Bavarian Keller, and Belgian Blanche. The introduction of these new flavors is projected to increase the sales and consumption of beer. Thus, this is anticipated to provide ample opportunities to players operating in the global market.
By brewery size, the craft brewery is estimated to grow at a higher growth rate in the brewing ingredients market.
According to the Brewers Association, an American craft brewer is a small and independent brewer, where small breweries have an annual production of 6 million barrels of beer or less. The craft brewing industry contributed USD 82.9 billion to the US economy in 2019, with more than 580,000 employees. The average alcohol by volume (ABV) content of a craft beer is 5% to 10%, but some of the most popular craft beers have an ABV of as high as 40%. On the other hand, beer produced in bulk by macro breweries has an ABV of 4% to 6% and as little as 2%. Craft breweries offer different flavors, which allow consumers with different tastes to cater to their preferences. These factors are driving the growth of the craft brewery segment in the global market.
Download PDF Brochure:
The increasing demand for beers in the Asia Pacific countries drives the region's growth rate at a higher pace.
The Asia Pacific region comprises two high-growth economies: India and China. The drinking preferences of the population in this region are gradually shifting toward alcoholic culture. The large, increasing population and the growing market mean that the demand for brewing ingredients is still promising. Another factor is the densely populated areas that are not completely tapped by beer manufacturing and brewing ingredient companies. Hence, beer produced in macro breweries and craft breweries still has a high-growth rate. Moreover, the increasing spending capacity of consumers has led to a surge in demand for craft beers. There has been an emergence of various craft breweries in countries such as India over the last few years.
The APAC region held the largest share in the brewing ingredients market. The demand for different beers with various flavors and different ABV is driven by economic growth, drinking culture in countries such as Vietnam and South Korea, urbanization, and the rise in the purchasing power of consumers.
Key Market Players:
Key players in this market include major players such as Cargill, Incorporated (US), Angel Yeast Co. Ltd. (China), Boortmalt (Belgium), Malteurop Groupe (France), Rahr Corporation (US), Lallemand Inc. (Canada), Viking Malt (Sweden), Lesaffre (France), Maltexco S.A. (Chile), and Simpsons Malt (UK) . These major players in this market are focusing on increasing their presence through expansions investments, mergers acquisitions, partnerships, joint ventures, and agreements. These companies have a strong presence in North America, Asia Pacific, and Europe. They also have manufacturing facilities along with strong distribution networks across these regions.